Regular price
Sale price
$30.00 USD
Unit price
per
Sale
Sold out
Sales Tax Included
✓

Fully personalizable with lots of options

✓

Instant live preview

✓

Fast shipping option

✓

Made with eco-friendly materials
We ship all US orders via UPS/FedEx/DHL. Express Shipping will be prioritised.
*Express shipping available on all unframed print sizes and select frame options:
View full details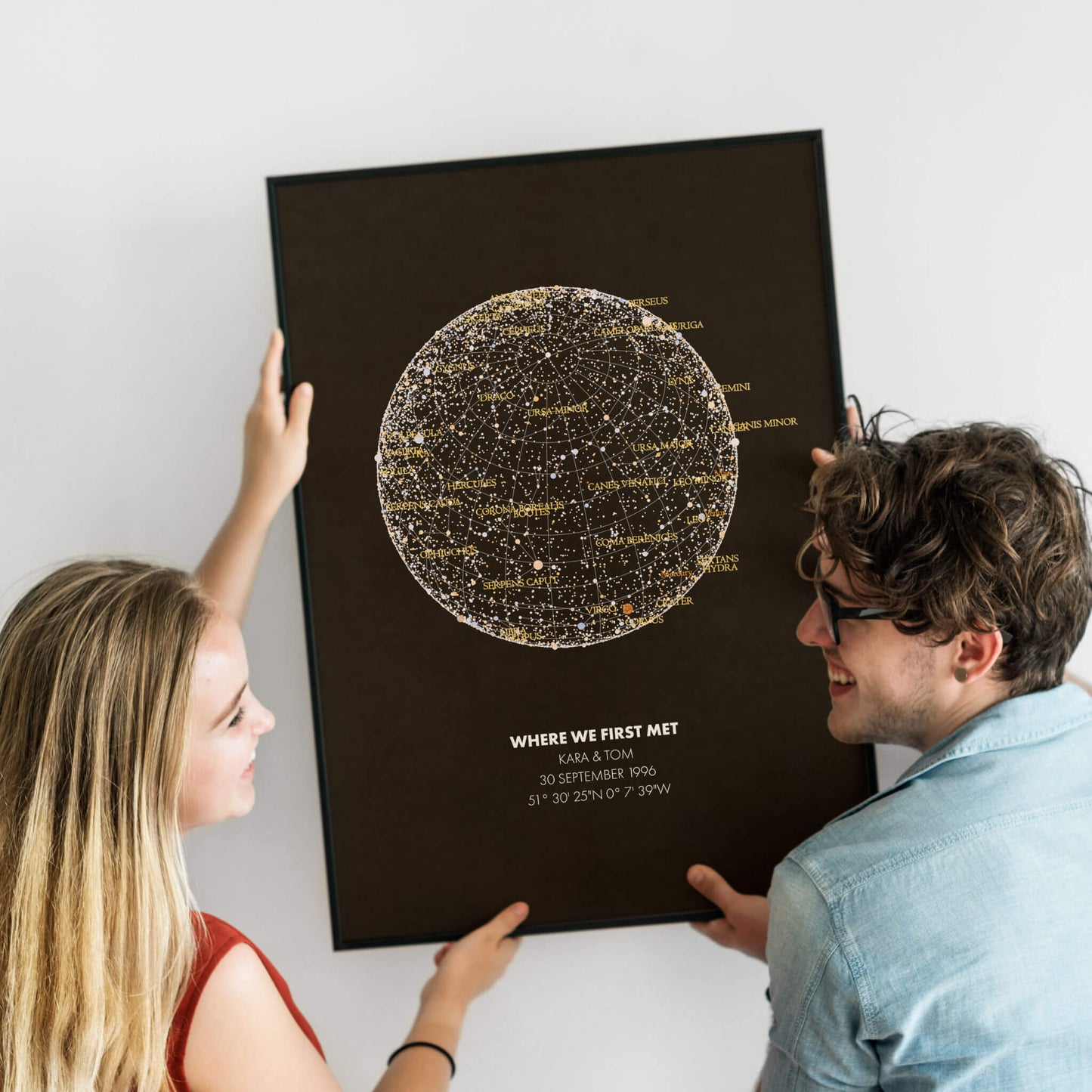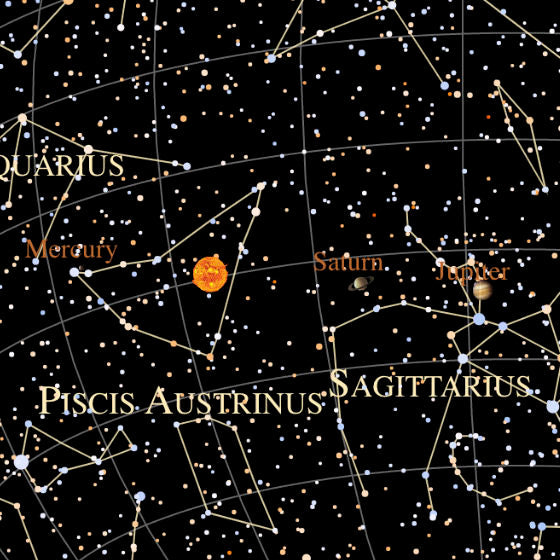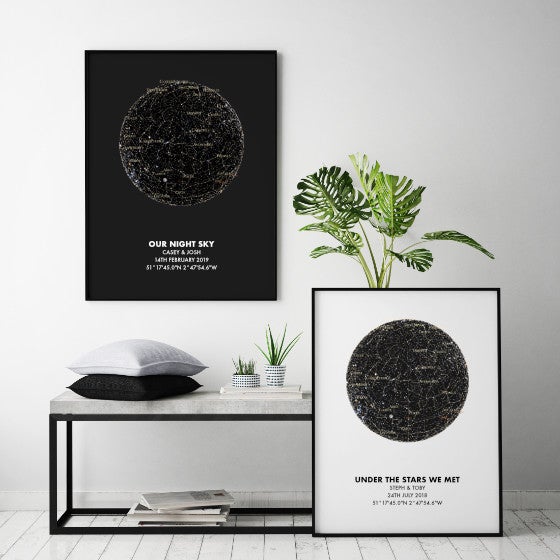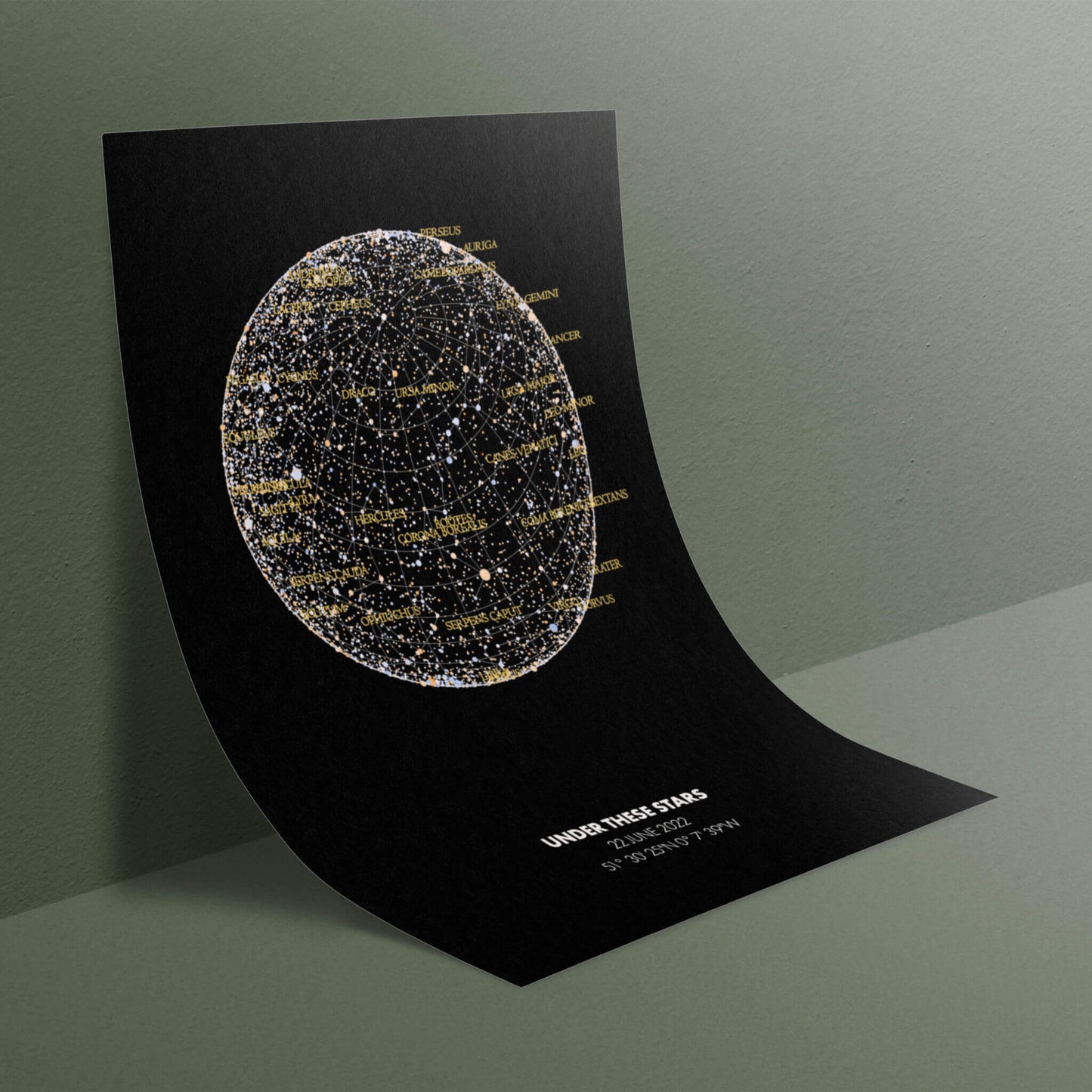 Display how the stars appeared on any date (and time) and at any location in the world. Our star maps uniquely show between 6,000 and 8,000 stars, the planets, the Moon and the Sun depending on your chosen date, time (optional) and location. Each map beautifully shows the outline of the constellations and the name of the planets in high definition - we are the only company providing this level of detail.
Our beautiful star map print makes a great gift for couples, day you were born, weddings/anniversaries, etc. We can show the stars for any day that is special to you and you can personalize it for any occasion.
Examples of titles, Baby Jack's First Christmas, The Night Sky When We Met, Our Wedding Sky, Day You Were Born, When She Said Yes can be displayed on your custom night sky poster print.
*All Print Frame Co watermarks are removed on final print.
FAQ'S
What is a Star Map?

Our star maps show the star positions in the sky as you would see them lying down, feet in the south and your head aligned to the north and looking straight up. Therefore, west (W) appears on your right and the east (E) on your left. This is the way astronomy charts are made.
Can I choose a date in the past, present or future?

Our software can calculate the positions of the stars on any date past, present or future. Our software has historic data on the star positions allowing it to calculate how the stars move across the sky in relation to the Earth
Why do I see the sun/moon on the map?

The stars are in the sky all through the day as well but not visible to us from the Earth due to the brightness of the sun. As a result our star maps can calculate the positions of the stars during the day also. Depending on the time entered your star map may include the sun's, moon's and planets' position.
Do your star maps allow for locations in the southern/northern hemisphere?

Yes! If you choose a location in either hemisphere our star map will be accurately orientated such that constellations such as the Southern Cross would be shown for locations in the southern hemisphere for example.
How can I check what is shown in my star map?

Once you choose a date and location on our designer, you can click the button lower right "Learn More" with a star counter. In this menu it will display an overview of the total star count, the constellations and which plants, sun, moon are displayed
How accurate is the star map?

We use data from the European Space Agency (ESA) missions that have accurately catalogued the positions of 46,392 stars. As a result each star map we produce for you will contain between 6,000 and 8,000 at any given location on Earth including any planets, sun and moon positions depending on your given location and date/time.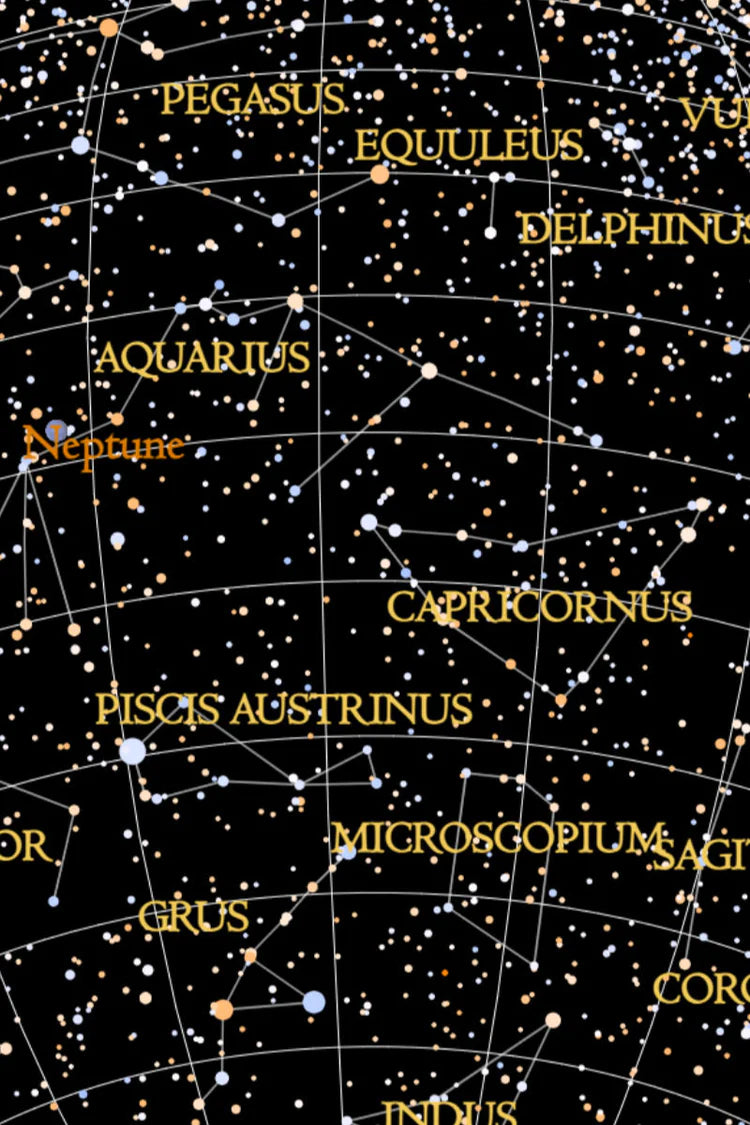 Unrivaled Detail
Our in-house design and devlopment team have spent over a year perfecting our star map design using data from the European Space Agency (ESA) and as a result can accurately calculate the positions of 46,392 stars.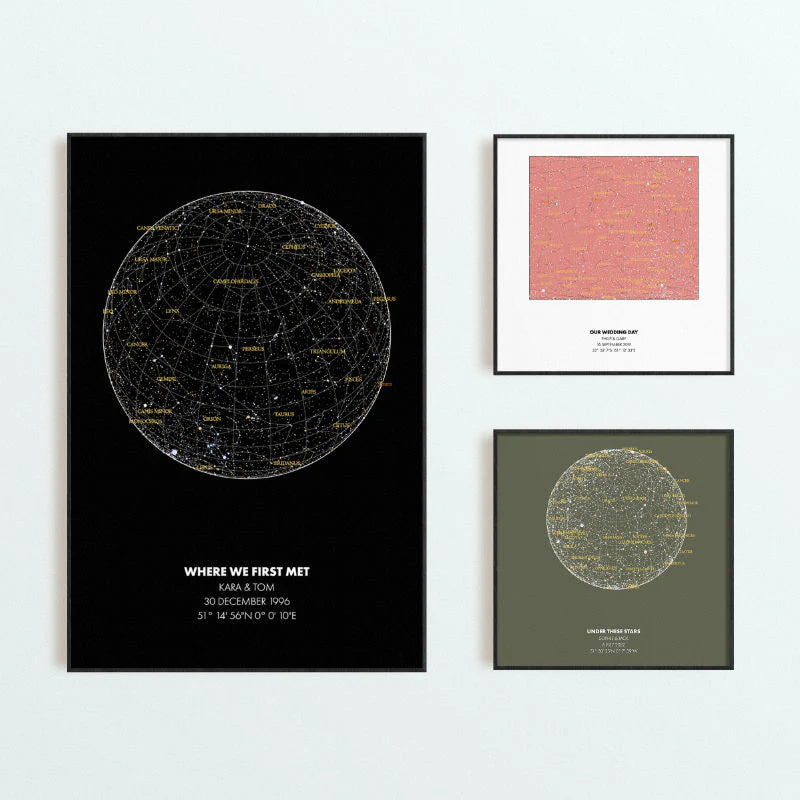 The Perfect Gift
Customise the design for special moments in your life, such as where we first met, got married, live, etc. Personalise the map further by changing the colours and text.
Make It Yours
With so many combinations to choose from, create your own star map today with our designer.
Free Shipping

We offer free shipping on all US orders

Free Framing Service

Choose one of our framed options and our framers will professionally frame your print so it is ready to hang

High Quality Print

Printed using museum-grade thick 310gsm paper

There's eCo In Print Frame Co

Sustainably made, from the materials we use for framing to the packaging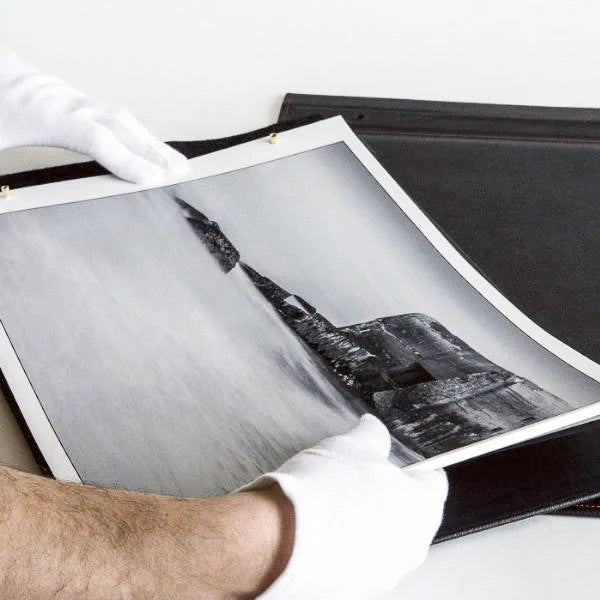 Print Quality
Our unique prints are printed with thick 310gsm archival art paper with a matt finish, which gives crisp lines and a wide tonal range of colour. Made with 100% recycled cotton, the paper we use is one of the most environmentally friendly papers. The paper conforms to ISO 9706 code ensuring museum quality for highest age resistance and is both acid and lignin-free. We use high quality inks which prevent fading over time thus maintaining deep blacks and colours for many years.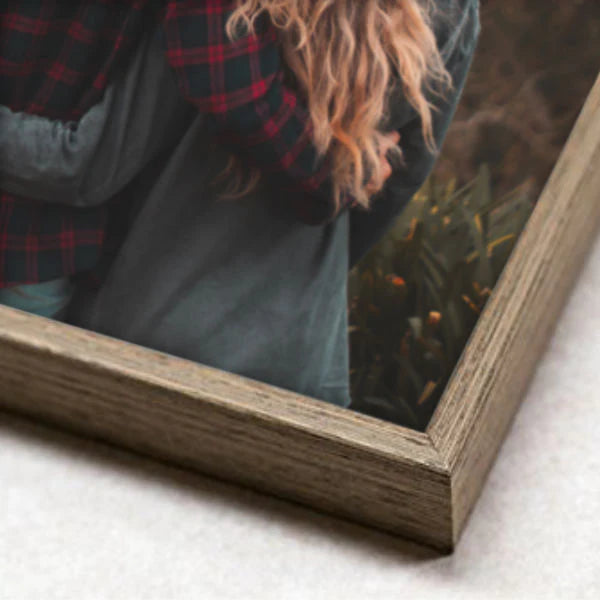 Framing
Want to add a frame? We offer several premium framing options that you can select on the product designer and if you choose a print from us, our framers will professionally frame the artwork for you so it arrives ready-to-hang. As framers we also have several other frame choices, let us know if you have a bespoke requirement.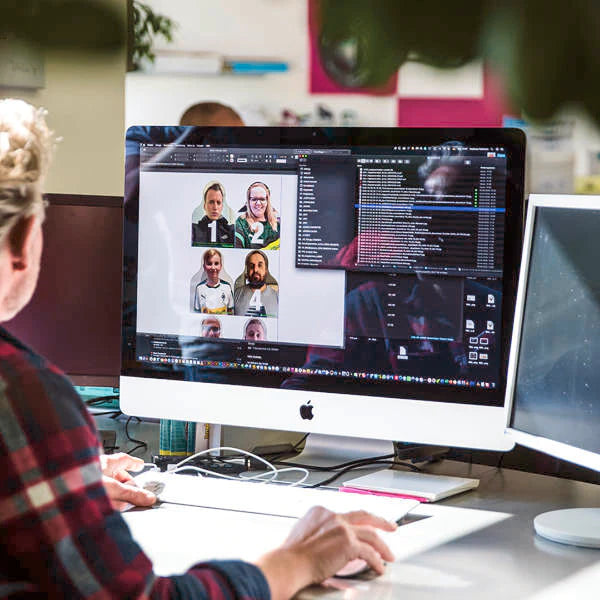 Want Custom Alterations?
All our designs are designed in-house by us, should you require any changes to the design such as the layout or even extra text to make it extra special, just ask! Either contact us via live chat or email before you place an order.